Overview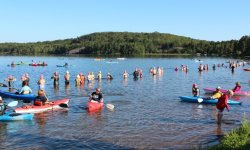 Swim Teal Lake:
Benefit for Diabetes
Saturday, July 26, 2014
      Beginners 8:30 am / Advanced: 9 am
Register at
www.teallakeswim.com
or at the event
Special Guest: Dr. Natalie Strand - Season 17 winner of "The Amazing Race!" & Type 1 diabetic
Marquette County Health Foundation has generously offered to match swimmer donations up to $10,000!
A Stand-Up Paddleboard is this year's raffle prize - raffle tickets available at:
  • Anytime Fitness - Gwinn & Ishpeming locations
  • Greater Ishpeming-Negaunee Chamber of Commerce - by Jubilee Foods in Ishpeming
  • UPDON / UPCAP Marquette Office - View: Address & Map
  • Western Marquette Co. Health Foundation office - 910 US 41 West, Ishpeming
Not a swimmer but want to help?   Call or email Kristen (906) 228-9203 or Email, especially if you have a kayak!
---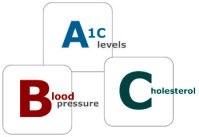 Two of three people with diabetes die of heart disease or stroke.   Lower your risk by managing the ABCs of diabetes - A1C, Blood Pressure, Cholesterol - and stopping smoking.   Visit: NPED for details.
---

Visit our other informational pages:
• Screening & Management
• Professional Continuing Education
• Nutrition & Physical Activity
• Complications & Personal Care
• Prevention & Pre-Diabetes
• Community Events
• Personal Action Toward Health (PATH)
Learn more - view the UPDON Portfolio, and
      - Social Network Analysis of the MI Diabetes Outreach Networks report
View the 2013 UPDON Resource Directory for diabetes, health, and social services available to Upper Peninsula residents.
Those having difficulty paying for diabetes (or another chronic illness) medications, supplies, and/or medical care can view our U.P. Assistance Directory.